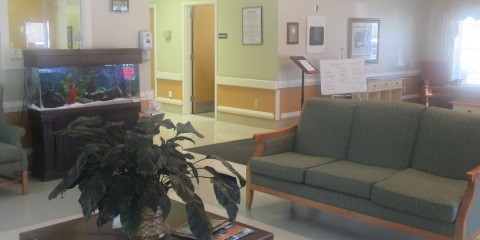 Accommodations
Resident Rooms
Greendale Forest offers both private and semi-private rooms. We encourage our residents and families to decorate the rooms with personal items from home to make the transition to nursing home easier.
Dayrooms
In addition to a spacious lobby-dayroom, there is an enclosed courtyard for outdoor enjoyment.
We have designated outside smoking areas for residents, staff and guests.
Dining At Greendale Forrest
A pleasant and therapeutic dining experience is very important to our residents and the experienced dietary manager and his staff provide quality meals based on individual preferences and therapeutic needs. The dietary department works closely with the clinical and rehabilitation staff and the Resident Council. A registered dietician provides consultation in meal planning and ensuring that each resident receives the most appropriate diet. Newly renovated dining rooms offer a pleasant dining environment.
Activities
Our facility provides and encourages our residents to actively participate in activities functions such as games, music, religious services as desired, and entertainment. This encourages socialization and a sense of community for our residents.
Greendale Forest offers a strong activities program designed to involve residents in interesting and therapeutic activities of their choice in a group or individual setting. Outings and trips are planned regularly and a number of community church and entertainment volunteers provide entertainment and relaxation. Our social worker is involved in evaluating resident needs, counseling and helping with shopping and discharge planning. Family involvement is important in every step of the resident's stay. We encourage participation from community organizations and special days, such as Veteran's Day, are celebrated with assistance from the community.